In the world of automation, electric actuators play a crucial role in a wide range of industries. Their ability to convert electrical energy into mechanical motion has revolutionized various applications, including the realm of fire grills. In this blog post, we will explore the significance of electric actuators in automated fire grill, their functions, types, and how they contribute to improved efficiency and safety. We will also delve into the actuator selection process and shed light on some prominent electric actuator manufacturers in India. So let's dive in!
Actuators: An Overview
Before we delve into the specifics of electric actuators, let's understand what actuators are and their fundamental purpose. An actuator is a device that converts various forms of energy into mechanical motion. It is responsible for controlling or moving a mechanism or system, often based on external input or sensor feedback.
Actuators can be classified into several types based on their source of energy, including hydraulic, pneumatic, and electrical. In this blog post, our primary focus will be on electric actuators, which have gained immense popularity due to their versatility, precision, and ease of integration.
Understanding Electric Actuators
Electric actuators utilize electrical energy to produce linear or rotary motion. In the context of automated fire grills, electric linear actuators are commonly employed for their ability to provide controlled linear motion. These actuators consist of an electric motor, a gear mechanism, and a lead screw that converts the rotary motion of the motor into linear motion.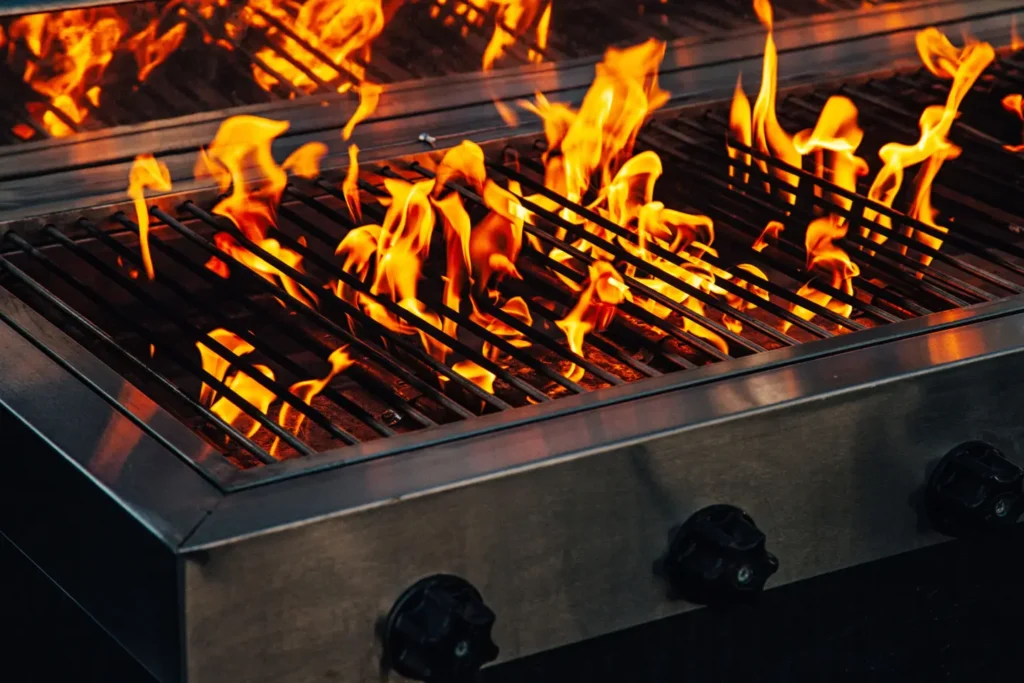 The Functions of Electric Actuators in Automated Fire Grill
Opening and Closing Mechanism: Electric actuators in automated fire grills facilitate the smooth and precise opening and closing of the grill's lid or door. This ensures that the grilling process is adequately controlled, preventing sudden temperature fluctuations or accidents.
Adjusting Cooking Height: Electric actuators allow for the adjustment of the cooking height in automated fire grills. This feature enables users to regulate the proximity of the food to the heat source, ensuring even cooking and preventing overcooking or burning.
Temperature Control: Electric actuators can be integrated with temperature sensors and control systems to maintain a consistent temperature within the fire grill. They can adjust the position of dampers or vents to regulate the airflow and ensure optimum combustion and heat distribution.
Actuator Selection: A Crucial Consideration for Automated Fire Grill
Selecting the right electric actuator for an automated fire grill is essential to ensure optimal performance and longevity. Manufacturers often provide an actuator selection table, which outlines the specifications and capabilities of different actuators, aiding in the decision-making process. Key factors to consider during selection include:
Load Capacity: The actuator should be able to handle the weight of the grill lid or door, as well as any additional loads such as food trays or accessories.
Speed and Stroke Length: The desired opening and closing speed, as well as the required stroke length, must be considered to match the specific requirements of the fire grill.
Environmental Considerations: Factors such as temperature, humidity, and exposure to grease or smoke should be taken into account to ensure the actuator's durability and reliability in the grill's operating environment.
Prominent Electric Actuator Manufacturers in India
India has a thriving automation industry, and several manufacturers excel in producing high-quality electric actuators. One such company is Kathir Sudhir Automation Solutions, renowned for its innovative and reliable actuator solutions. Their electric actuators are designed to meet diverse application needs, with a focus on precision, durability, and energy efficiency.
Conclusion: Elevating Grilling Experience with Electric Actuators
Electric actuators have emerged as vital components in automated fire grills, enhancing both efficiency and safety. Their ability to control linear motion and seamlessly integrate with temperature and control systems ensures precise operation and consistent results. By selecting the appropriate actuator based on load capacity, speed, stroke length, and environmental considerations, users can optimize the performance of their fire grills.
As the demand for automation continues to rise, it is crucial to understand the functions and types of electric actuators. By harnessing the power of these versatile devices, automated fire grills can deliver exceptional cooking experiences while prioritizing safety and convenience.
So, whether you're a barbecue enthusiast or a professional chef, the incorporation of electric actuators in your automated fire grill can elevate your grilling game to new heights. Explore the possibilities and enjoy the benefits of enhanced efficiency and safety in your next grilling adventure!