As technology continues to shape our daily lives, even the most mundane aspects of our routines are being revolutionized. One such area is car seat adjustment, where the incorporation of electric linear actuators has significantly improved both comfort and safety for drivers and passengers. In this blog post, we will explore the concept of car seat height adjustability and the advantages of using electric linear actuators for precise and effortless seat adjustments.
Understanding Linear Motion and Electric Linear Actuators
Linear motion refers to the movement along a straight line. In the context of car seat adjustments, linear motion is employed to raise or lower the seat, allowing individuals to achieve their desired seating height. Electric linear actuators, powered by electricity, are devices that convert rotational motion into linear motion, enabling precise and controlled adjustments.
Height Adjustable Seats in Cars: A Necessity for Comfort and Safety
When it comes to car seat ergonomics, one size certainly does not fit all. People have different heights, leg lengths, and preferences when it comes to seating positions. Therefore, the availability of height adjustable seats in cars is crucial to ensure optimal comfort and safety for all occupants. Being able to adjust the seat height can help prevent discomfort, fatigue, and potential health issues associated with poor posture during long drives.
Benefits of Electric Linear Actuators for Car Seat Height Adjustments
Precise Control
Electric linear actuators offer precise control over seat height adjustments. With the help of electronic controls, drivers and passengers can easily adjust the seat to their preferred height with the push of a button. This eliminates the need for manual adjustments and provides a tailored seating experience for every individual.
Effortless Operation
Unlike manual adjustments that may require physical strength or multiple attempts to find the perfect seating position, electric linear actuators ensure effortless operation. The smooth and consistent linear motion provided by these actuators allows for seamless seat adjustments, reducing strain on the user and making the process quick and hassle-free.
Enhanced Safety
Car seat height adjustability plays a significant role in ensuring the safety of drivers on the road. A well-adjusted seat allows drivers to maintain proper visibility by optimizing their eye level with the windshield, reducing blind spots, and improving overall driving performance. Electric linear actuators facilitate precise adjustments, enabling drivers to find their optimal seating position, thus enhancing safety during travel.
Accessibility and Inclusivity
Car seat height adjusters powered by electric linear actuators promote accessibility and inclusivity. They enable people with mobility challenges, disabilities, or limited mobility to comfortably enter and exit vehicles, facilitating their independence and inclusion in society. These adjustments can also be beneficial for elderly individuals who may require extra assistance while getting in and out of cars.
Customization and Personalization
Electric linear actuators allow car seat height adjustments to be personalized according to individual preferences. Whether it's a taller driver who needs extra legroom or a shorter passenger who requires a higher seat position for better visibility, these actuators enable customization, ensuring a comfortable and enjoyable driving experience for all.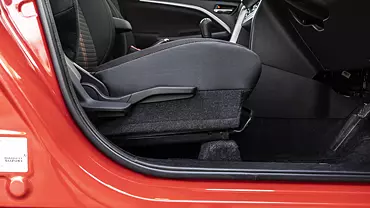 Future Implications and Conclusion
The integration of electric linear actuators in car seat height adjustments has brought about remarkable improvements in comfort, safety, and accessibility. As technology advances further, we can expect even more sophisticated features to enhance the overall driving experience. Perhaps, in the near future, car seats will have the capability to automatically adjust based on an individual's biometrics or incorporate additional functionalities such as lumbar support or seat heating.
In conclusion, the application of electric linear actuators in car seat adjustments has transformed the way we experience comfort and safety while driving. With precise control, effortless operation, enhanced safety, accessibility, and customization, these advancements are undoubtedly a step forward in ensuring optimal seating ergonomics for all occupants. As we continue to prioritize user-centric design in automotive engineering, car seat height adjusters powered by electric linear actuators will become an indispensable feature in vehicles, catering to the diverse needs and preferences of drivers and passengers alike.