The world of medical technology continues to evolve rapidly, bringing innovative solutions to enhance patient care and comfort. Among these advancements, electric actuator have played a pivotal role in revolutionizing hospital beds and cots. In this blog post, we will delve into the essential aspects of electric actuators, their functions, applications in healthcare furniture, and how they contribute to improving patient experience and caregiver efficiency.
What is an Electric Actuator?
An electric actuator is a mechanical device responsible for converting electrical energy into precise linear motion. It is an essential component used in various industries, including healthcare, to automate and control the movement of equipment, furniture, and machinery. Electric actuators find extensive application in hospital beds, massage chairs, dental chairs, and many other healthcare-related systems.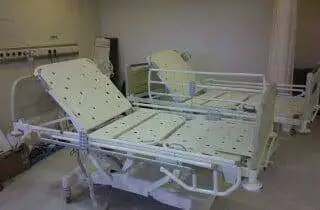 Functions of Electric Actuators:
Electric actuators offer a wide range of functions that contribute to the seamless operation of hospital beds and cots. Some key functions include:
Linear Motion Control: Electric actuators provide smooth and precise linear motion, allowing healthcare furniture to adjust height, inclination, and other positions with accuracy.
Automated Adjustments: Hospital beds equipped with electric actuators enable automated adjustments, reducing the need for manual labor and enhancing patient comfort.
Safety Features: Actuators often come with built-in safety features, such as overload protection and emergency stop mechanisms, ensuring patient safety during bed adjustments.
Quiet Operation: Electric actuators are designed for silent operation, reducing noise levels in healthcare settings and promoting a restful environment for patients.
Remote Control: With the integration of remote control systems, medical staff can easily adjust bed positions without direct physical contact with the patient.
Benefits of Electric Actuators in Healthcare Furniture:
Enhanced Patient Comfort: Electric actuators enable patients to find their preferred bed position, improving comfort during recovery, rest, or treatment.
Easy Patient Mobility: Electric actuators assist caregivers in smoothly transitioning patients from one position to another, reducing strain and enhancing patient mobility.
Time Efficiency for Caregivers: Automated bed adjustments facilitated by electric actuators save valuable time for medical staff, allowing them to focus on providing quality care.
Personalized Patient Care: Hospital beds with electric actuators can be easily customized to meet the unique needs of individual patients.
Reduced Risk of Injuries: The precise and controlled movement of electric actuators minimizes the risk of injuries caused by sudden movements or manual adjustments.
Selecting the Right Electric Actuator:
The selection of the appropriate electric actuator is crucial for optimizing the performance of hospital beds and cots. Manufacturers often provide an actuator selection table, considering factors such as load capacity, stroke length, speed, and power requirements. Buyers should also consider the reputation of the manufacturer, warranty options, and after-sales support when making their choice.
Innovations in Electric Actuators:
In recent years, electric actuator manufacturers in India and worldwide have introduced cutting-edge technologies to enhance their products. From IP67-rated actuators for water and dust resistance to advanced control systems with IoT integration, these innovations have further improved patient experience and operational efficiency in healthcare settings.
Conclusion:
Electric actuators have undoubtedly revolutionized the healthcare industry, particularly in hospital beds and cots. Their precise linear motion, automated adjustments, and patient-focused features have significantly contributed to enhancing patient comfort, caregiver efficiency, and overall healthcare experience. As technology continues to advance, we can expect even more sophisticated and intelligent electric actuators that will continue to transform patient care and well-being.