In recent years, technological advancements have revolutionized the way we interact with everyday objects. One such innovation is the electric actuator, a crucial component used in various applications to enable linear motion. In this blog post, we will explore the significance of electric actuators in swimming pool hoist/lifters, discussing their functions, types, and the role they play in enhancing accessibility and convenience for individuals with mobility challenges.
Understanding Electric Actuator
An electric actuator is a device that converts electrical energy into mechanical motion, specifically linear motion. They offer precise control and are widely used across industries, from robotics to automotive and home automation. Electric actuators can be categorized into different types, such as push-pull linear actuators, electric linear actuators, and more, each with its unique functionalities.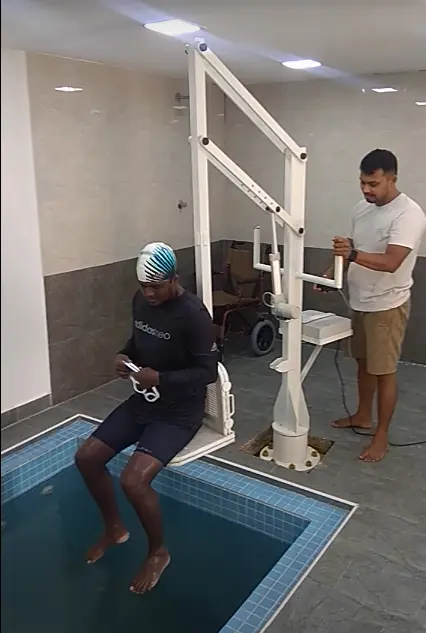 Actuators in Swimming Pool Hoist/Lifters
Swimming pool hoists/lifters have become essential amenities in both public and private pools to provide accessibility to people with limited mobility. These assistive devices facilitate safe and comfortable entry into the pool, allowing individuals to enjoy the benefits of aquatic activities independently.
Electric Actuator Functionality in Pool Hoist/Lifters
The electric actuator serves as the core component in swimming pool hoist/lifters. Its primary function is to control the linear motion required to raise and lower the lifting arm carrying the user into and out of the pool. This movement is achieved through precise positioning, ensuring a smooth and secure transfer for the user.
Advantages of Electric Actuator
Reliability: Electric actuators are known for their high reliability and durability, making them ideal for repetitive and continuous use in swimming pool hoist/lifters.
Quiet Operation: Unlike traditional hydraulic systems, electric actuators operate quietly, contributing to a peaceful pool environment.
Ease of Control: Electric actuators can be easily integrated with electronic control systems, allowing precise positioning and remote operation for added convenience.
Low Maintenance: Electric actuators require minimal maintenance, reducing overall costs and ensuring prolonged functionality.
Actuator Selection and Manufacturers in India
When designing swimming pool hoist/lifters, selecting the right electric actuator is crucial. An Actuator Selection table can help identify the appropriate specifications based on load capacity, stroke length, speed, and other essential factors.
In India, several manufacturers specialize in producing high-quality electric actuators for various applications. One such notable company is "Kathir Sudhir Automation Solutions," known for its innovative and reliable actuator solutions.
Conclusion
The integration of electric actuators in swimming pool hoist/lifters has significantly improved accessibility and convenience for individuals with limited mobility, granting them the opportunity to enjoy the therapeutic benefits of water activities. With the advancement of technology and the continuous efforts of manufacturers like "Kathir Sudhir Automation Solutions," we can expect further enhancements in the functionality and efficiency of electric actuators, benefiting people worldwide in multiple domains beyond the swimming pool industry.