In recent years, technological advancements have revolutionized the agriculture industry, making it more efficient and productive than ever before. One such technological innovation that has played a crucial role in enhancing agricultural machinery is the integration of linear actuators. Linear actuators are devices that convert rotational motion into linear motion, providing precise control and movement to various components of agricultural machinery. In this blog post, we will explore the applications and benefits of linear actuators in supporting agricultural machinery, specifically focusing on their role in harvester equipment. We will delve into the functionalities, advantages, and future prospects of integrating linear actuators in harvesters machinery, highlighting their contribution to increased productivity and improved sustainability in the agricultural sector.
Understanding Linear Actuators in Agricultural Machinery
Definition and Working Principle
Linear actuators are mechanical devices that generate linear motion by converting rotational motion. They consist of a motor, a screw or belt drive mechanism, and a housing. When the motor rotates, the screw or belt drive translates the rotational motion into linear motion, allowing precise control over the movement of various components in agricultural machinery.
Types of Linear Actuators Used in Agriculture
There are several types of linear actuators used in agricultural machinery, each with its unique characteristics and applications. Some common types include:
Electric Linear Actuators: These actuators are powered by electric motors and offer precise control and positioning accuracy.
Hydraulic Linear Actuators: Hydraulic actuators use pressurized fluid to generate linear motion and are known for their high force capabilities.
Pneumatic Linear Actuators: Pneumatic actuators utilize compressed air to produce linear motion and are commonly used in applications requiring rapid and repetitive movements.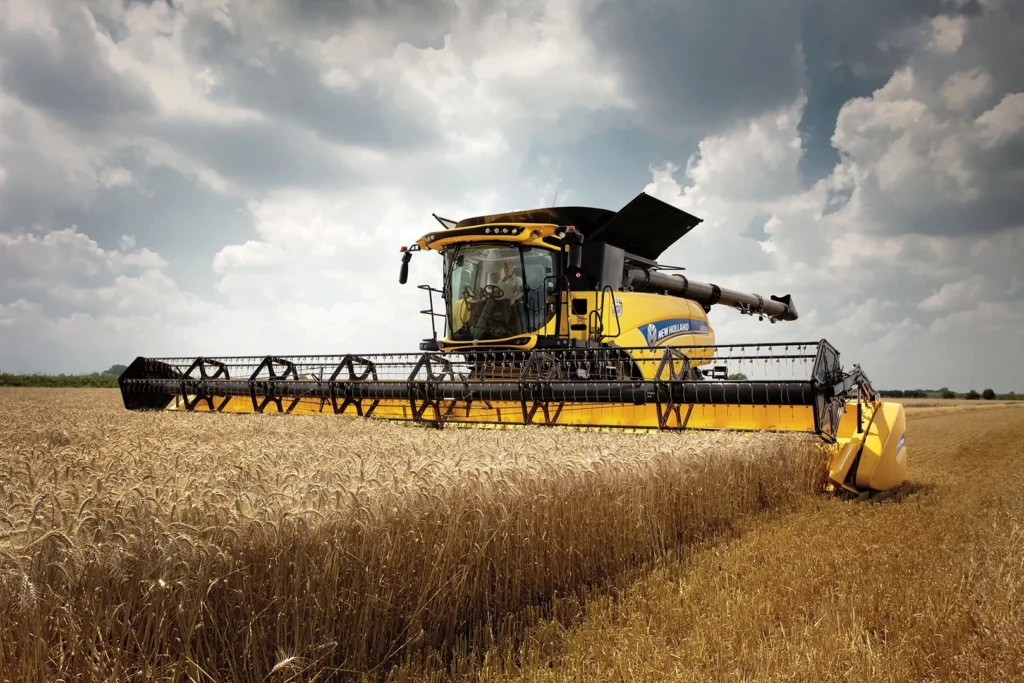 Role of Linear Actuators in Harvesters
Harvesting Mechanisms Enhanced by Linear Actuators
Harvesters are vital agricultural machines used for efficiently gathering and processing crops. Linear actuators find extensive use in various components of harvesters, improving their functionality and performance. Some key areas where linear actuators support harvester machinery include:
Cutting Mechanisms: Linear actuators enable precise control over cutting mechanisms, such as blades or saws, ensuring accurate and uniform crop harvesting.
Height Adjustment: Harvesters often require height adjustment to accommodate different crop heights or uneven terrains. Linear actuators provide the ability to adjust the height of harvesting components, optimizing harvesting efficiency.
Conveyor Systems: Linear actuators facilitate the movement of conveyor belts in harvesters, ensuring a continuous flow of harvested crops for processing.
Benefits of Linear Actuators in Harvesters
The integration of linear actuators in harvester machinery brings numerous advantages, positively impacting agricultural operations. Some notable benefits include:
Increased Precision: Linear actuators offer precise control and positioning, resulting in accurate harvesting and minimizing crop damage.
Improved Efficiency: The ability to adjust and control various components of harvesters enhances their efficiency, leading to higher productivity and reduced labor requirements.
Enhanced Safety: Linear actuators enable automation and remote control, reducing the need for manual intervention and minimizing the risk of injuries to operators.
Adaptability: With adjustable height and flexible control, linear actuators allow harvesters to accommodate various crop types and terrains, improving versatility and adaptability.
Case Studies and Real-World Applications
Case Study 1: Precision Harvesting with Linear Actuators In a research project conducted by a leading agricultural machinery manufacturer, linear actuators were integrated into a harvester to enable precise cutting and collection of crops. The study demonstrated that the implementation of linear actuators improved harvesting accuracy, reduced crop waste, and resulted in higher overall yield.
Case Study 2: Height Adjustment for Uneven Terrain A farming cooperative implemented linear actuators in their harvester's height adjustment system to address the challenges posed by uneven terrains. The linear actuators allowed the harvester to adapt to varying ground levels, ensuring consistent cutting heights and preventing damage to crops. This implementation resulted in improved harvesting efficiency and minimized crop loss.
Future Prospects and Sustainability
Advancements in Actuator Technology
As technology continues to evolve, the future of linear actuators in agriculture looks promising. Ongoing research and development efforts are focused on enhancing actuator capabilities, such as increased load capacities, higher precision, and improved energy efficiency. These advancements will further optimize the performance of agricultural machinery and contribute to the sustainable growth of the agricultural sector.
Sustainability and Environmental Benefits
Linear actuators offer significant environmental benefits, aligning with the growing focus on sustainable agriculture. By enabling precise control and reducing waste, they contribute to resource conservation, minimize the use of chemicals, and promote sustainable farming practices. Moreover, the automation capabilities of linear actuators can optimize energy consumption and reduce greenhouse gas emissions associated with agricultural operations.
Conclusion
Linear actuators have become indispensable components in modern agricultural machinery, with their integration in harvesters playing a vital role in improving efficiency, precision, and sustainability. The ability to control and adjust various aspects of harvester machinery enhances productivity, minimizes crop damage, and reduces labor requirements. As technology advances, the future holds even more promising prospects for linear actuators in agriculture, with ongoing research focused on further enhancing their capabilities. By embracing these advancements, the agricultural sector can continue to evolve, meet the increasing demands for food production, and contribute to a sustainable future. For more details about Actuators visit our website.