Linear motion plays a crucial role in various industries, powering machines and systems that require precise and controlled movement. One of the key components driving this motion is the electric linear actuator. In this blog post, we will delve into the world of linear actuator electric, their significance, and the top manufacturers in India. So, let's get started!
Understanding Electric Linear Actuators
Electric linear actuators are devices designed to convert rotary motion into linear motion, providing controlled and accurate movement along a straight line. These actuators are widely used in industries such as manufacturing, automotive, medical, robotics, aerospace, and more. Their versatility and efficiency make them indispensable in modern automation systems.
The Role of Electric Actuator Manufacturers in India
India is known for its thriving manufacturing sector, and it is no surprise that several reputable electric actuator manufacturers have emerged in the country. These manufacturers have been at the forefront of producing high-quality electric linear actuators, catering to both domestic and international markets.
Kathir Sudhir Automation India Pvt. Ltd.
Kathir Sudhir Automation India Pvt. Ltd. is a renowned manufacturer known for its cutting-edge electric linear actuators. They offer a wide range of products that meet diverse application requirements. Their actuators are built with precision engineering, ensuring durability and reliable performance. They focus on producing innovative solutions that optimize efficiency and productivity in industrial automation. Their products are known for their robustness, accuracy, and compatibility with various systems. They specialize in manufacturing high-quality linear actuators that are tailored to specific industry needs. With a strong emphasis on research and development, Kathir Sudhir Automation India Pvt. Ltd. continuously introduces advanced technologies to stay ahead of the curve.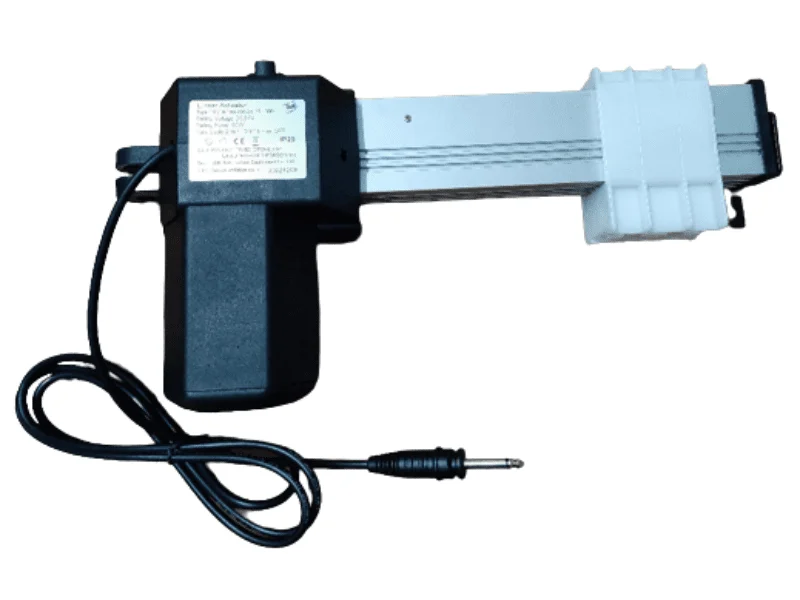 Electric Linear Actuators in Action
Electric linear actuators find application in a wide array of industries due to their versatility. Some common uses include:
Industrial Automation
Linear actuators are extensively employed in industrial automation systems for processes such as material handling, assembly lines, packaging, and more. They provide smooth and precise movement, enhancing overall operational efficiency.
Healthcare
The medical sector benefits from electric linear actuators in various equipment, including hospital beds, dental chairs, examination tables, and rehabilitation devices. The actuators allow for easy adjustment and positioning, improving patient comfort and care.
Robotics
Electric linear actuators are indispensable in the field of robotics. They enable precise movement and control in robotic arms, grippers, and other robotic systems, facilitating tasks that require accuracy and repeatability.
Push-Pull Linear Actuators
Push-pull linear actuators are a specific type of electric linear actuator that operates by pushing and pulling a load. They are widely used in applications where both pushing and pulling forces are required. These actuators can generate high forces, making them suitable for heavy-duty applications like lifting heavy objects or controlling large machinery.
Benefits of Electric Linear Actuators
Electric linear actuators offer numerous advantages over their hydraulic and pneumatic counterparts. Here are some key benefits:
Precise Control
Electric linear actuators provide precise positioning and control, allowing for accurate movement and repeatability.
Energy Efficiency
Unlike hydraulic systems, electric actuators consume less energy, resulting in reduced operating costs and environmental impact.
Easy Integration
Electric linear actuators are relatively easy to integrate into existing systems, making them a convenient choice for retrofitting or upgrading automation processes.
Maintenance
Electric actuators require minimal maintenance compared to hydraulic or pneumatic systems, leading to lower downtime and increased productivity.
Conclusion
Electric linear actuators have revolutionized the world of automation, providing efficient and precise linear motion across various industries. With the increasing demand for automation solutions, it is no surprise that electric actuator manufacturers in India are playing a pivotal role in meeting these needs. The advancements in electric linear actuators continue to enhance the efficiency and productivity of countless applications, driving innovation and progress in the manufacturing sector and beyond.
So, whether it's industrial automation, healthcare, robotics, or any other field requiring controlled linear motion, electric linear actuators are the go-to solution. Embracing these advancements ensures that businesses can achieve optimal performance, reliability, and ultimately, a competitive edge in today's rapidly evolving market. For more details visit our Website.